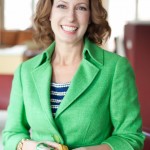 Five years ago I needed to figure out how to make an income. So I asked myself "What do I love to do, and how can I make it into a business?" Then I grabbed a pen and paper and started writing what that business would look like. I got training, education,  joined industry affiliations, and started networking. My business began slowly, but has built over the years.
If I can do it, having had no business background, a lot of people can, too. Friends, if you had told me six years ago that I would have a thriving Image Consulting business, give presentations to businesses and women's groups, write style and fashion for newspapers and magazines, and be #1 in local Google searches, I would have been very surprised. But I built that up, because I believe in it's value. I love what I do and have many happy clients who now know how wonderful they feel when they look their best.
Author and teacher Marianne Williamson put it this way: "Until you accept the magnitude of your function, your unconscious mind will sabotage any attempt to show your full magnificence."
Best wishes for an amazing new year!
Marian Rothschild Personal Stylist, Wardrobe Consultant, Personal Shopper, Fashion Stylist with Look Good Now
www.marianrothschild.com 2497 Keller Farm Dr. Boulder, CO, 80304. Color analysis is part of every personal style consultation.