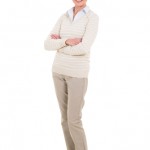 Lots of women over forty tell me they want to look stylish, but at the same time they want to make sure that they are dressing age-appropriately. That's understandable.
You have good taste, but maybe you're not sure about that fine line between looking chic, sexy, and going too far. You're not sure what the rules are, how to figure out what's over the line.
When you're in an intimate setting, like a dimly lit bedroom with your lucky fella, go all out for sexiness. However, at work or social occasions on the weekend, even just running to the grocery store, err on the side of restraint. (You never know who you'll run into at the grocery store or anywhere else.) You can dress to express your inner essence, even if you're sure that your inner essence is a goddess – while still implementing great taste and discernment.
Guidelines for age-appropriate dressing in public
If you think something is not age-appropriate, it's probably not. Reconsider your choice.
There's no substitute for good taste. A classic style will always be a lovely choice if you're not sure what other direction to go.
If you are over the age of forty-five or fifty at the most, do not wear skirts or dresses shorter than one or two inches above the knee, period. Toss those denim minis; they've had their day. Also, consider the idea that sleeveless tops are probably not right for you, unless you work out regularly and have firm upper arms.
If you are over thirty, do not shop in the junior department. You can find lots of trendy items in the misses departments, even women's, petite, and plus-size departments. Be selective and don't settle for "just okay."
One animal print at a time is plenty. An entire outfit of any animal or reptile print is too much of a good thing, unless you're going for a very exotic look.
Any belly that's exposed had better be tan, trim, firm, and under forty.
A bun or one low ponytail is beautiful for any age woman. Two low braids can look interesting, whimsical, or Bohemian with the right outfit or boots, up until about the age of fifty. Two ponytails (also known as pig-tails) look immature, little girlish, and silly on anyone over twenty-five.
If most of your outfit is classic, it's fun to add one trendy item, like a fringed scarf, hoop earrings, a denim or leather jacket.
If you have exposed your cleavage, you have invited gawkers. Don't expect people not to look. You put 'em out there, they will be gawked at. Men will lust and women will be put off, no matter what. We call them private parts for a reason.
Shop for classic, age-appropriate pieces with killer style at Nordstrom, Talbots, Saks, Bloomingdale's, Neiman Marcus, Macy's, and J.C. Penny (but be careful to only buy good quality), and independently owned boutiques in cities. If the better department stores are out of your price range, I recommend designer consignment stores, rather than settling for dull, boring, same-old stuff. See my shopping rules in Chapter Thirteen.
Two-piece bathing suits, especially bikinis, are best worn by trim, firm bodies that exercise regularly and are less than fifty years young. Tankinis are a great alternative, plus there are lots of slimming one piece swim suit options.
If you feel uncomfortable in high heels, or you have a problem balancing on high heels, either the heels are too high or you need to practice wearing them around the house before you wear them out. There's nothing chic about looking like you're walking a high wire or trying to balance on stilts.
Skirts and dresses are best worn at mid-knee or just at the top of the knee. Miniskirts (two-inches above the knee or shorter) and short dresses are best worn by trim, firm bodies that exercise regularly and are under fifty.
Short shorts fall into the same category as miniskirts. Mature gals, keep them mid-thigh at the shortest, to just above the knee.
Do not wear hose with open-toed shoes or sandals. If it's warm enough to wear open-toed shoes or sandals, you don't need hose. If you think your legs need hose, wear close-toed shoes or hose with the toes exposed. Yes, they make them!
Get a professional bra fitting once every five years. It makes a big difference. See Chapter Nine; Underneath it all.
Your glasses should fit at the top of your nose, not halfway down. If they keep slipping, get them adjusted at the eyeglasses store. Otherwise they will age you and give you a disheveled appearance.
Avoid high-maintenance hair, makeup, and clothing and still look great all day with these tips.
Get a haircut that's easy to style and don't wash it every day.
Have a set makeup routine with tools, products, and techniques that take no more than eight minutes to apply and five minutes to freshen up, mid-day.
Wear well-made, comfortable, classic apparel in fabrics that don't wrinkle.
A dab of translucent powder will take away shine on parts of your face that naturally perspire. Use powder before anyone snaps a photo of that fabulous face.
A little bit of back-combing can be a terrific volumizer for hair. But be careful, too much teasing will look dated and messy.
Add volume to noticeably thinning hair with clip-in, natural hair extensions in a shade that matches your hair color. Ask your hairstylist to teach you how to put them in.
Marian Rothschild is a certified personal image consultant serving the Denver and Boulder areas. Marian teaches successful professionals to have polished presence and confident leadership skills with exquisite intention. Marian coaches on appearance, body language, and communication. Call for a free 20 min. consultation: 720-933-9247.