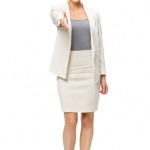 You finally landed your dream job. It's your first day in the new office. You get off the elevator and open the door to your new career, your new life. You're excited, you're thrilled, you're…underdressed! Oh no, the hiring manager said that everyone dresses pretty casual. Don't worry about looking too formal. So you didn't. Heck, you actually put on jeans with only one hole in the knee, and a brand-spankin' clean shirt. Well, a tee shirt.
Everyone else? Guys are wearing trousers with dress shirts, hard-soled shoes and belts. (Is that what those loops are for?) Some of the women are wearing skirts and high heels. What's going on here? Sure, you wore a suit for the job interview, you borrowed it from your friend and returned it the next day. Thought you'd never need that again.
The hiring manager had specifically said the words "business casual dress."  So what the heck does that mean?
As a professional image consultant, I speak with hundreds of business men and women on what to wear for a sharp, smart, professional appearance. I'm all for choosing wardrobe that expresses your authentic self…within the parameters of appropriate office attire.
What you wear on weekends and in the comfort of your own home is your business. But when you are out, especially in a work situation, your appearance sends an immediate, non-verbal message of who you are to everyone who sees you. So ask yourself: what would you like your image to say about who you are?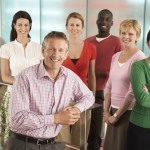 If you'd like to project the image of an ambitious, intelligent, creative, tenacious, team player, there are some important guidelines for dressing the part.
According to Ann Marie Sabath, author of numerous books on business etiquette, including Beyond Business Casual, the definition of Business Casual Dress is actually a check-list. As a professional image consultant, I totally agree with Ms. Sabath's points:
Clean, wrinkle-free and odor-free clothing
Better quality clothes rather than lots of cheap pieces
Always have a jacket on hand
No trendy denim, leather, plunging necklines, or tank tops
No flowery prints or gingham checks
Skirts & dresses within 2" of the knee, no shorter
Shoes must have a back or back strap
Wear good quality accessories, no more than eight
Dress for the job you want, not for the job you have
Here are some additional recommendations of my own for your Business Casual Dress guide:
Hard-soled shoes for men and women
Match shoe leather to belt and handbags, totes
Match your metals; eye glasses, watch, jewelry
Men's dress shirts are entirely pressed
Clothes fit well; skim the body, not cling nor droop
Pant waistline sit at the hip bone
No slouchy sweaters, jackets, or droopy pants
No cleavage or under clothes showing, even straps
Women's hair clean and styled away from the face
Men's hair clean & trimmed neatly, trim facial, nose, and ear hair
Polished, day makeup face for women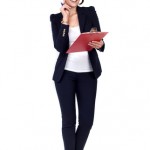 Remember that suit that you wore for your job interview? Keep it handy and in good condition. From time to time wear the slacks with a dress shirt or sweater. Wear the jacket with trouser jeans, a great top and quality accessories on casual Friday. When the big-wigs or important clients are coming in, wear the whole suit, even if they're not expected to visit your area. You never know when they need someone to sit in on a meeting or attend a presentation for feedback. Your polished appearance will make a great impression.
Guys, keep a tie in your desk, just in case. Wrap it in tissue so it stays clean and wrinkle-free. Even if it's not the norm in your office, wear a jacket and tie every once in a while. You can loosen the knot at the top of the tie, roll up your sleeves, and unbutton your top button on your shirt for a more casual look. Sport coats look fantastic, even with khakis. Bosses are impressed when guys wear sport coats. Really. It says you care about yourself and your situation. It says you're focused and you take work seriously.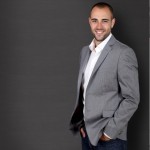 The standard dress pant for men and women are fine wool trousers. They hold their shape, hang nicely, and won't wrinkle. You only need a few pair. Buy them in dark brown, charcoal grey, and black. If you rotate wearing them with shirts, sweaters, and tops with jackets, you can create lots of different outfits.
Remember, less is more when it comes to business attire. It's much better to have a few pieces of good quality clothes rather than lots of inexpensive pieces that look cheap and don't hold up.
Ladies, keep a strand of costume pearls in a small box in your desk for surprise meetings or interviews. They look great with anything and instantly dress up even the most casual outfit. Your shoes don't have to be high heals, but they do have to have structure. A 2" heal is ideal for a great look, and you can wear that height all day without pain. A classic pump is classic for a reason; they are flattering and give a polished impression.
Ladies, the clothing you wear to work should never be too tight that the fabric pulls and buttons bulge. However, on dresses and all tops, including blouses, sweaters, and jackets, the waistline of the garment should be tapered inward. It is fine to show the curve of your waist, but absolutely not acceptable to dress sexy or in a revealing manner at work. Skirts should be no shorter than 2" above the knee. Basically, don't wear anything to work that you would wear clubbing on Saturday night.
If your office adheres to "Casual Friday" you still want to have a professional presence. That means collared shirts for guys, nothing you'd wear to clean out your garage. When choosing jeans for casual days, make them trouser style jeans instead of tight, bleached, low-rise jeans with holes and fringe. No sneakers in the office. They're for the gym and walking your dog.
Casual does not mean sloppy, it means smartly relaxed. Business casual means a sharp, professional appearance with quality clothes, accessories, and shoes. When you look good you feel good. You'll even feel more confident, comfortable, and productive. Put some thought and effort into your business casual wardrobe and you'll not only keep that dream job, you may be on your way to the executive suite!
Marian Rothschild is a business and corporate image consultant with Look Good Now in Boulder, CO. She is a speaker and writer on image-related topics, and gives private consultations on color, style, makeup, and wardrobe. Email: [email protected], website: www.marianrothschild.com.