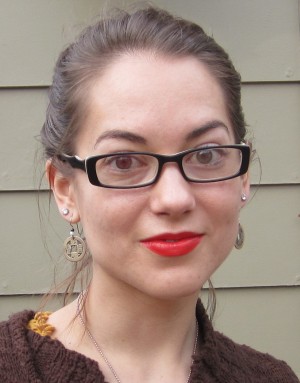 These frames are nice, you see this style quite often. But they don't really fit her face very well, do they?
Two points: 1) Your eyes should be directly in the middle of the frame in order to get the most out of your prescription, and from the other person's point of view, they just look best in that position. 2) The frame of your glasses should be either the same color as your hair, or the same tone (meaning how light or how dark) as your hair.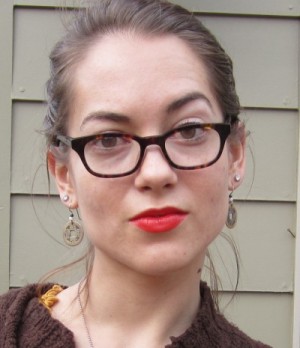 This is the new Geek Chic style that is super urban cool right now, for both guys and girls. Cute, right? But they are sitting way too low on the bridge of her nose. If you push them up higher and they just slide down, or just aren't shaped correctly, you CAN correct that yourself. Just buy yourself a few sets of pre-cut, self-adhesive rubber inserts to apply to the inside, where the glasses hit your nose. The rubber inserts are available at frame shops or where glasses are sold.
Here we go! How great does she look in these adorable glasses, now that they are in the correct position on her sweet face? Super cute!
The look is just the right combination of sexy librarian meets stylish sweetheart. What more could you ask for? 
Having trouble knowing what frames look good on you? I have helped many folks, guys and ladies, find eye glass frames that fit their face, flatter their style, and put the WOW back in wearing glasses! Call today for an eye glass shopping appointment; 720-933-9247. 
Marian Rothschild, AICI Personal Image and Wardrobe Consultant, personal shopping, color consultation, style, body type, and closet analysis expert, Boulder, Denver, Longmont, CO. Look Good Now, 2497 Keller Farm Dr. Boulder, CO 720-933-9247