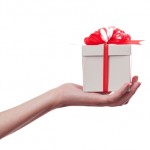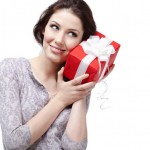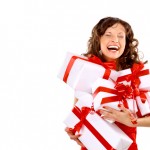 What do women really want for holiday gifts? I've got the answers—37 great ideas you hadn't thought of and she forgot to mention! Actual female clients weighed in on their wishes for goodies from Santa. The first ten are the most popular. If you need help shopping, call me.
Spa day gift certificate
Massage gift cards
Personal training gift certificates
Date night romance: Dinner at a nice restaurant and a movie of her choice
Nordstrom gift card
Personal chef/meals gift certificates
Healthy meals pre-cooked and portioned out for family
Gift certificate for cooking class
Scarves: patterned coral, pink and teal infinity scarves—they're already tied and the colors flatter all skin tones!
A "statement" necklace like large-bead "fashion" pearls
"Waterfall" cardigan in teal, chocolate brown or maroon
Not Your Daughter Jeans (NYDJ) in brown, forest green or rust colored corduroy
A subscription to a flower-of-the-month club
Stemless wine glasses
Gift certificate for Denver Center for Performing Arts (or other professional theater)
Perfect chandelier earrings
New gold iPhone 6
Rose gold jewelry
Great tall boots
A closet tune up
Comfortable snow boots with some style and pizzazz
A subscription to a wine-of-the-month club
Dressy leather gloves
Super chunky cable sweater to curl up with 
Starbucks sterling silver gift card
Faux fur winter vest
Nice travel mug
House cleaning services
White board with magnets
Silk pajamas
Nice desk set
Something naughty that only Santa knows about!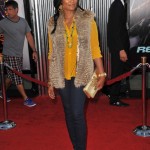 These last five are my personal favorites, which I highly recommend.
33. V-neck cashmere sweaters; long sleeve, in bright colors like coral, pink punch, cobalt blue and emerald green, because you want to stand out from the crowd, not blend in. They are cozy, warm, comfy, and they hold their shape well without wrinkling. Every working woman needs at least three.
34. High quality, beautiful bling necklace; big, bright, colorful and sophisticated. They are the height of trend, make anything look updated, and add sparkle and glow right where you need it—in the 18″ spear of influence around your face, where
you want people to look. Choose something rich-looking with some weight to it; perfect for your leadership role.
35. You want a bag that sends the message "I have arrived." Kate Spade bags come in some gorgeous leather and rich colors. They are the perfect size, not too big but big enough, and have the perfect amount of zippers for all your necessities, including a laptop or pad.
36. "The Loop" is an ear bud holder and anti-tangling device. Every business professional needs at least three: one for the office, one for the gym, one for home. Great stocking stuffers!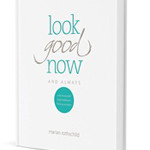 37. The award-winning book, Look Good Now and Always: a do-it-yourself style makeover for busy women. To order, visit https://amzn.to/1i4LW2H.
Lots of terrific ideas for your girlfriend, sister, wife, mother, and for anyone to whom you'd like to say "Thanks, Happy Holidays!" If you'd like some help shopping, I can do that IF you call soon – appointments book up quickly. So call now: 720-933-9247.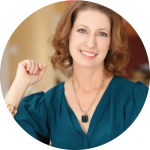 Marian Rothschild is a Certified Personal Image Consultant in the Denver and Boulder areas. Marian helps successful professionals upgrade their personal brand using visual, verbal and nonverbal communication for a polished presence and stellar success. Visit Image Services and Personal Branding, then call for a free 30 minute phone consultation: 720-933-9247.