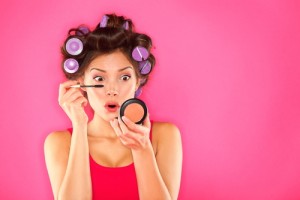 Wondering how to apply makeup for photos? Be camera ready in 10 minutes and look fantastic. Here's how:
It's not just about putting on tons of eyeliner and fake lashes. It's about using color and product in the right shade and correct placement. 

Start by shaping and filling in the brow lightly to highlight the arch. 

Now line the eye from the outer corner all the way to the inner corner, using either a dark brown or soft black pencil or brush and very dark shadow. Using a softer hand for a lighter effect, line under the eye, along the outer lid, from outer corner, about half way across. 

Brush on non-clumping mascara to upper lashes and outer corner of lower lashes. 

Dab concealer on the inner corner of the eye and along the trough line under the eye. Blend concealer well into the upper cheek area for a smooth, even  skin tone. 

Swirl on mineral powder foundation to forehead, nose, cheeks, and chin. Set with pressed powder.

Lightly brush pink blush into the apples of the cheeks and up on a diagonal for just two inches, toward the middle of your ear. 

Apply lip color in coral, pink, or rose, finish with a dab of gloss. 
These are great tips for parties and informal get-togethers, or if you're doing a presentation at work. But your professional photo needs to be polished in every way, including wardrobe, hair and makeup. For your LinkedIn, website, or company photo, don't leave anything to chance; hire a professional. I'm certified personal image consultant Marian Rothschild, I've been doing wardrobe and makeup for photos for about ten years now. Click here for examples of my work. Call me to see if we're a good fit: 720-933-9247.