Never buy anything JUST because it's on Sale! If you do, it will shrink up, ball up, pill up, or twist up into a handful of floppy fabric that you've wasted your money on.
We are hypnotized by the word Sale! As if you'll get everything you want for just a few measly pennies. Yea, not really. They want you to think that you will be the height of fashion and your wallet will be none the worse for wear.  Hogwash. It's marketing.
Don't be fooled by marketing and advertising tricks. They tell you that you'll look fantastic in everything they are selling…and they want you to believe that you're a fool if you don't buy it right away.
The first picture in the Nordstrom Anniversary Sale catalogue, is a very young lady, a teenaged girl, really, wearing a gray sweater, holding a gray handbag. Well, no one this girl's age can afford that handbag, ($1,268.90) unless she is the daughter of an Arab sheik. The next picture you see is someone wearing gray tights and gray suede strappy sandals with a 4 1/2″ heal.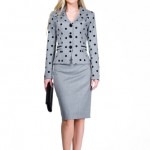 The only people who look good in gray are people with gray hair, or people who are so dog-goned young and cute, it doesn't matter what the heck they wear. And the only women I know who can wear 4 1/2″ heals for more than a nano second, are teenagers – who can't afford the sandals ($299.99) anyway!
There are definately ways to use the upcoming Nordstrom sale, and other summer sales, to your advantage.
1) Take a hard look inside your closet and see where the gaps are. What are you always thinking you need more of; skirts, dresses, cute blouses? Make a list.
2) Take an honest look at your finances. See how much you can afford to spend on clothes this summer without going into dept. Make a budget.
3) Edit your closet. Get rid of at least ten things in there that you haven't worn in the last few years and, truth be told, you're not ever going to wear. Make a donation.
4) Go through the catalogue and take a look at all the different fashion styles; trendy,(p.5), chic, (p.45), (p. 4G), artistic, (p.4), funky, (p. 13),  retro, (p.8), grunge, (p.21), jr. (p.28). See what you love. Earmark pages. Go back and circle what you love. Check the price. Make priorities.
5) Check out looks in other magazines to be sure of what styles you love. This is how you get un-stuck from ruts. See how the stylists from the magazines put outfits together this year. There are lots of new ideas out there this year; mixing prints, bold color blocking, bright colors. Make note of new trends.
6) Before you spend a dime, walk through the store on the first or second day of the sale. See what they have to offer in the different departments. Venture into unchartered territory. Try things on and be honest about how they actually look on you. Don't ask the sales person, they are on commission. They want you to buy everything. Ask yourself these three questions;
1) Does it fit? 2)Does it flatter? 3) Do I love it?
If the answer to any of these is "No", do not buy it! Even if it is on sale! There are plenty other options. Make yourself a promise to be honest.
7) Hire a certified professional personal image consultant to help you shop. Not the "personal stylists" the store employes – they are commissioned sales people! They know nothing about what colors make your unique skin tone glow and your eyes sparkle. They don't have any training or experience in design elements like balance, proportion, focus, contrast, scale, texture, and body shape. And they sure as heck don't know you, your unique personal style, your tastes, your lifestyle, what you've already got and what you need, want, and love. You have enough mistakes hanging in your closet already. Call Marian Rothschild, AICI FLC to help you get the look you love for the life you want. Make an upgrade. Call now (720) 933-9247.
Marian Rothschild is a Certified Personal Image Consultant with Look Good Now. Boulder, Denver, CO. Services offered include color analysis, wardrobe style consulting, body shape dressing, makeup lessons, and personal shopping for men, women, and graduates. Do you have a closet full of clothes and nothing to wear? Call now to see if we are a good fit, (720) 933-9247. Don't wait; Look Good Now!