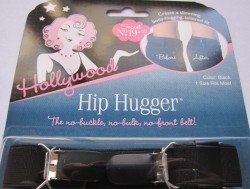 One of the most often asked questions from clients is "What can I do about The Gap at the top of my jeans?" It's frustrating and confusing to want jeans, but every pair you try on has The Gap! You know what I'm talking about; the 2 or 3 inches that stick out at the back of your waistline on your jeans and other pants. It's stupid, it's gross.
Here's the answer; Hip Hugger. It's a little piece of elastic with two small clasps at each end. The clasps attach to your belt loops to hold in The Gap. Viola; the fabric around your waist in the back stays close to your skin because the elastic is adjustable. 
The Hip Hugger is by Hollywood, the same people who bring you Hollywood Fashion Tape, (another problem solver). Both of these products are available at your local fabric store (JoAnn Fabrics), and cost about $11.00. 
For lots more problem solvers regarding fashion, color, makeup, or shopping, contact Personal Image Consultant Marian Rothschild, 720-933-9247, [email protected], Denver, Boulder, Longmont, CO. Don't wait, Look Good Now!