In the movie "Steel Magnolias," Olympia Dukakus's character, in a southern drawl, postulates something like; "What distinguishes us from the beasts is our ability to accessorize."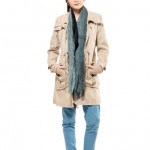 What can absolutely make an outfit? Accessories. What is one of the seven components of a put-together look? Accessories. What can give pop, zing, and sizzle to an otherwise rather dull, ordinary get-up? Yep, you guessed it: accessories.
Yet, in my experience seeing women during speaking engagements, networking events, private consultations, and in my travels to and from both coasts and internationally, what's missing from most women's outfits is accessories. We have them, but we don't wear them. When questioning my clients as to why they don't wear colorful fashion jewelry, they tell me they're not quite sure how.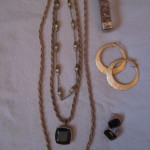 And yet when I layer three gold necklaces together, hanging at ascending lengths, and drape them around the neck of that same client, she looks in the mirror and beams, "Wow, I love that!" I've heard it a hundred times.
I've compiled some recommendations on how to use fashion jewelry to complete your outfit:
Use colorful necklaces, bracelets, and earrings to add a pop of color, focus, flavor, and accent.
Wear metal necklaces, fine jewelry, or pearls to lend sophistication and elegance to any outfit.
Accessories are an extension of your personality and express your personal style. We all have many different aspects of our personalities and want to dress in a variety of styles for different events. Work, dates, and dressy fundraisers all require different styles and manner of dress. Therefore, your accessories should be in a variety of styles, as well.
Earrings, necklaces, and bracelets do not need to match, but they do need to relate to one another. For example, if your necklace is made of wooden beads, your earrings and bracelet do not need to match exactly, but they do need to have some bits of wooden beads in them.
When wearing either yellow gold or silver, stick to one or the other, primarily for all of your accessories. For example, if your necklace and earrings are yellow gold, do not wear a belt with a big silver buckle.
For job interviews and a business-appropriate look, eight accessories is enough. For example:
1. Necklace
2. Earrings
3. Bracelet
4. Watch
5. Scarf
6. Belt
7. Rings
8. Bag
This is a trick that I heard Marilyn Monroe would do. After she was completely dressed and had on all of her accessories, she'd take a quick look in the mirror. If any one piece of jewelry stood out, she'd take it off because that meant it was too much.
Celebrity stylist Tim Gunn of "Project Runway," on wearing bright, bold accessories, said, "It's fun! It's fresh!"
You'll stand out in a good way when you wear accessories that compliment, embellish, and pull together the rest of what you're wearing into an entire outfit.
Marian Rothschild, AICI FLC is a certified personal image and wardrobe consultant for the Denver and Boulder, CO areas. She is founder and president of Look Good Now Image Consulting in Boulder, CO. Marian is a  personal shopper, personal fashion stylist, does color analysis, and makeup lessons. Visit our website at www.marianrothschild.com, then call for your free 15 minute consultation; 720-933-9247. Don't wait, Look Good Now.