Boulder Image Consultant Marian Rothschild, AICI FLC, reports that "the" color for spring this year is green. It's not just this consultant's opinion,  Emerald Green is actually the Pantone color of the year. They make the calls. They set the trends in color every year. Somebody's got to do it, I suppose. Can you imagine being on the color committee? What would you wear to meetings?
Colors don't need to match any more, so go ahead and mix two different greens together, or my favorite combo; green & blue… green & pink… green & yellow…you get it.
It's fun. It's fresh. Green is for everybody…even me, see? Try it!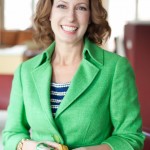 Boulder Image Consultant Marian Rothschild, AICI FLC guides successful men and women to put together their complete head-to-toe look, to feel confident, attractive, and genuine. Image Services include: color analysis, style and wardrobe consultations, personal shopping, and makeup lessons.Visit our website, then Call for your free 20 min. consultation: 720-933-9247.