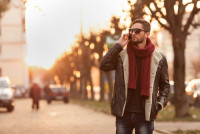 We just got our first snow here in Boulder, Colorado. How about you? Is your closet ready for winter? Here are some things to do now to prepare for winter in your closet, your calendar, and your life.  
Pack up your summer clothes and store them in a spare closet. Be honest about what you want to keep, donate or bring to a consignment store. 

Bring out your winter clothes from the spare closet and check for moth holes, wrinkles and anything needing repair. Make sure your clothes from previous years still fit like they did last time you wore them! If not, you might be able to have them altered at a good tailor. Be honest about what's still in style and what you'll be able to create new outfits with, wear for work and weekends.

Dust off your boots and leather oxfords that you haven't worn all summer. Give them a good polishing and check the heels for wear; heals may need to be replaced at the shoe repair shop. If you don't have shoe trees in your leather shoes, get some of those now. 

Take inventory of what's working for you and what's missing in your fall/winter wardrobe. Based on that info, start making a Holiday gift list of desired wardrobe and accessory items. Include colors and sizes of items. Let your loved ones know you've got a list, maybe even provide a catalogue or link so shopping is super easy.

Take a look at your winter coats; they might need dry cleaning, or at least a good brushing. If they're pretty well worn or don't fit, get yourself a new winter coat in a color other than black, that fits really well and you really love. You deserve it.

Budget for Holiday gifts, parties and extra expenses like food, wine and travel.

Arrange with people at work for time off for family and travel needs during Holiday time. 

Make travel plans for the dead of winter. You'll want to get to a warmer climate to alleviate the winter blahs. But if you wait till after the Holidays to make reservations, air fare and hotels could be twice the price. Don't forget your furry buddies, make reservations now for them, too, at a friend's place or kennel.

Are you happy with what's in your closet, and are your clothes working for you? What are your challenges? If you'd like help to prepare winter wardrobe, shopping, professional image or personal branding, visit my website,

www.marianrothschild.com

, then call me at 720-933-9247 for a free 30 minute phone consultation.