You think you're the only one with these problems, but I hear these questions every week. Gentlemen, there's tips for you, too: some of number 4, plus 5 and 6.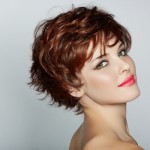 1) For really dark circles under the eyes: Dab concealor all the way from the inner corner of the eye, downward on the trough line under the eyes. Then blend the concealor with small dabs, all the way down into the cheek area. This technique will give better coverage, and blend the different colors on your face better than just applying concealor only directly under the eyes.
2) For a wide or long nose: after your foundation has been applied, dab a small amount of dark tan eye shadow on an eye shadow brush. Gently and lightly swipe the shadow on the sides of the nose and on the tip and under the nose.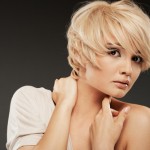 3) If your neck starts on a diagonal under your chin, and if you don't have much delineation inward, under your chin, use this technique as an optical illusion. Apply either bronzer or a dark tan color eye shadow along the bottom of the jaw line, and inward from the bottom of the chin to the top of the neck. This will give the appearance of a more horizontal line under the chin, rather than a diagonal line.
4) To make thin, fine hair appear thicker, apply a thickening mouse after towel drying, then blow-dry hair with your head upside down. Once dry, let hair cool with your head still upside down. Then brush out gently with a boar bristle brush, keeping hair loose. Do not blow dry with a round brush, rather, lift hair and curl with curling iron or hot rollers. Then, dab some tacky hair paste on fingertips and apply lightly to the scalp, roots, and body of hair, lifting hair upward for fullness and volume. Back comb any areas that need some extra lift. Finally, spray lightly with a volumizing hair spray. Comb gently with a wide-tooth comb, when needed.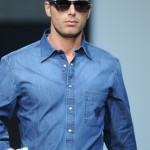 5) Often, I meet men at workshops, presentations, and networking events. Occasionally, when they hear what I do, they point to themselves and ask, "Well, how did I do?" (Women never ask me this question. For some reason, only men do, and it's happened many times.) I can't get into a style analysis right then and there. But for most men, here are my top three recommendations: 1) You will feel better, look better, move better, and sleep better if you eat better and exercise regularly. 2) Wear a blue shirt that fits your shoulders and torso; not too baggy, nor too tight. 3) Wear dark-wash jeans that fit well.
6) If your eyeglasses, wardrobe, and accessories are old, outdated, and just plane old schlumpy, let's go shopping and get you some terrific-looking updates. You'll be all ready for the new season and feel confident, put-together, and polished. Please visit my before and after photos, testimonials, and service packages, then give me a call to schedule your appointment: 720-933-9247.
For lots more answers to
your unique beauty needs
, and a full understanding of what cosmetic products, colors and techniques to use, schedule a
Private Makeup Tutorial
. Call: 720-933-9247.