You have places to go and things to do this summer. You want to look current, updated, fresh and put-together. But with all the mixed messages coming from television, movies, and the mall, it's hard to know what to wear, what goes with what, and if it's appropriate for you. That's why I wrote Look Good Now and Always: a do-it-yourself style makeover for busy women.
 Here are some quick and easy ways to make a stylish summer splash without breaking the bank.
 1)  Show some ankle. Roll up the bottom of your skinny jeans once or twice, and take your socks off, even if you're wearing shoes. Better yet, get some cute strappy sandals, maybe with a bit of gladiator influence.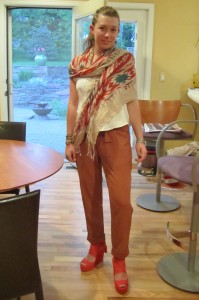 2)  Go collarless. On-trend right now are colorful, easy-care tops and blouses with no collar. Even for a business casual look with or without a jacket, which may or may not have a collar. Choose tops with a flowy fabric and some sort of print like horizontal stripes, floral, or animal print.
 3)  Add accessories. A statement necklace or a beautiful silk scarf can really make an outfit. They can turn same-old into a wow by going bold, and adding a pop of crisp color. Earrings and necklaces don't have to match, but they do have to relate to each other and be related to the outfit somehow. In other words, there must be something similar about them, but not matchy-matchy. Multi-layered necklaces of long chains are all the rage, but don't over do it. When in doubt about size or style, classic elegance (think Audrey Hepburn) wins, hands down.
 4)   Carry a satchel. A definite dynamite look this season is a short-handled bag. Some bags come with two options; one long and one short. Long is convenient for carrying over the shoulder, but short is chic. Maybe you can find a short-looking strap that's long enough to free your hands for important things like checking the time and texting your assistant.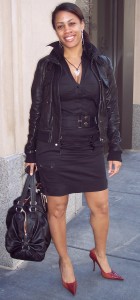 5)  Try a new do. If you've been going to the same hair stylist for years and you notice your bangs are a bit of a bore, switch it up. Find photos in magazines of hairstyles and highlights that you love and bring the pictures into the salon. Ask your stylist if that cut and color will work for your hair's texture and if it will flatter your face shape. Or try a new stylist. If you know someone whose hair you love, ask her who she goes to and make an appointment.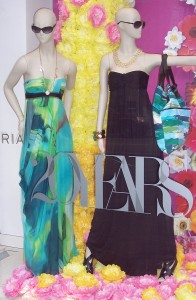 6)  Glam it up. Even if you live in a super casual town, every now and then, decide to take your style up a notch or two. Do this by wearing heels for a luncheon or dinner instead of your old comfy flat stand-bys, and take the time to apply a polished day makeup face with bright lip color. Instead of grabbing your worn fleece when you need a jacket, take your blue jean jacket and a long scarf, pop the collar and roll up the sleeves. Pair the jean jacket with a midi skirt and strappy sandals and you'll feel easy-breezy with casual elegance. Just add friends, a cool drink, sparkling conversation, and enjoy!
Don't let this summer go by without enjoying yourself. Plan some interesting excursions and decide that life is too short to be drab. Use all six tips for updating your summer fashion, 2014. Don't wait, look good now!
For more helpful tips on updating and upgrading your unique head-to-toe personal style, click here to buy my best-selling book on Amazon.com.
Marian Rothschild is a certified personal image consultant, speaker and best-selling author. She realizes that lots of folks are focused on important things like career, family, home, and health, so they don't have time and energy to focus on clothes and professional image. But being a former actress, dancer and model, Marian has a knack for helping men and women look sensational for work, weekends, special events and all-around feeling fabulous. She trained, got certified, and built a thriving business, Look Good Now. With her help, men and women all over the Denver area have transformed their outer appearance into a confident, genuine expression of full potential for stellar success. There are lots of ways Marian can help you, even for free. Call for a no-obligation, complimentary 30 min. phone consultation, 720-933-9247.