How to update what's already in your closet, without spending a boat-load? There are some simple tweaks that can give last year's pieces an updated look.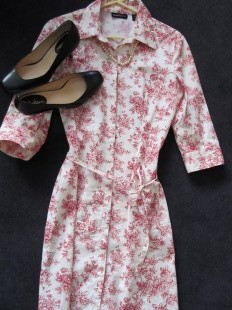 Here's a simple floral shirtdress. It came with a matching sash that, last year, was tied just below the waist, so that the sash or belt hung on the hips, more or less. Also in previous years, the default accessories would have been a pair of black pumps and classic pearls. 
It's nice, but not too creative and certainly not fun.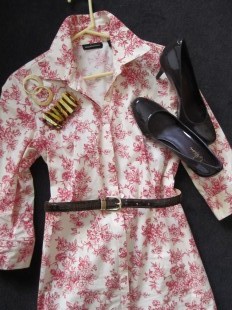 Here's an updated outfit using that shirtdress. Now it features plum patent leather pumps, a brown leather belt worn higher on the waist, and creative accessories. The colorful bracelet has a touch of red in it, to repeat the red that's in the dress. The gold hoops relate to the gold color in the bracelet without being too matchy-matchy. And pop your collar for more lift.
Marian's rules for an updated spring style:
Belt worn higher on the waist
Colors don't have to match
More creative choices of colors
Accessories aren't matchy-matchy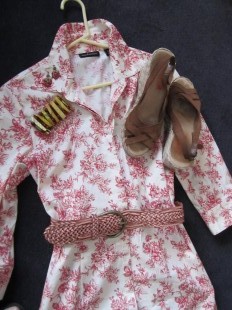 And finally, here's one more version of an outfit that really says "Updates look great!"
This time we used a woven belt in a pale blush color, a wedge sandal that also has a woven theme, that colorful gold and red bracelet, and gold and red beaded earrings for a fresh pop. 
See what you can pull together from pieces and accessories that you already have to give your outfits a fresh, updated style that conveys your own fabulous, fresh, signature look. 
 Need help editing your closet, putting together outfits that you love? Marian Rothschild, AICI personal image consultant helps successful professionals, graduates, and new moms, put together their complete head-to-toe look, to feel confident, attractive, and successful for every situation.
Please see services descriptions, then call for your appointment; 720-933-9247. Don't wait, Look Good Now!