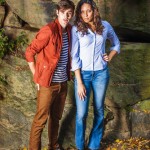 Guys and Ladies, What summer style essentials do you need but haven't gotten yet? This is a questions I posted on my facebook page a few weeks ago. Of the many comments that were posted in reply, one struck me as amazing. My friend Katie commented, "What are the essentials?" Well of course you need a list, that will work for men and women.  Therefore, here's my top twelve list, of summer must-haves.
 A wide-brimmed hat
Broad spectrum (UVA and UVB) sunblock
Colored shorts and jeans
Colored light-weight jacket and sweater
Perfect posture
A great hair cut
A sturdy handshake
Exercise
Courage
Executive presence
Plaid shirt
Floor-length casual dress…well, okay, the dress is only for women, I suppose.
Want a more personal list for your specific needs? I'm happy to oblige. Call me for a personal wardrobe consultation and we'll get you all set and ready for every warm weather situation in your business and personal life: 720-933-9247.

Marian Rothschild is a certified image and wardrobe consultant in the Denver and Boulder areas. Marian works with organizations and successful individuals, guiding them to their genuine, inside and out, put-together image for executive presence and exquisite influence. Call for a free consultation to see what image service package is right for your needs: 720-933-9247. Call now.