Packing for  Summer Travel By Professional Wardrobe Consultant Marian Rothschild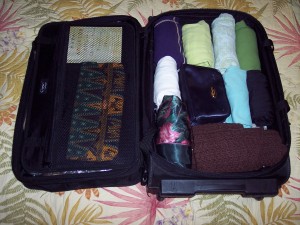 Consider each day and evening's activities on your trip. Plan outfits accordingly.
Count the # of days you'll be gone. That's how many tops you need to pack, total.
Pack light. You can always hand-wash items in a sink & hang to dry.
Wear your heaviest & bulkiest clothes & shoes on the plane.
Lay out outfits the day before you travel. You only need 3 pr. shoes.
Always check the weather report for your destination the day before you leave, then again on departure day. You may need to throw in a sweater or umbrella.
Pack comfortable walking shoes. You still only need 3 pr. shoes.
Call the hotel to see if they have robes & hair dryers. If they're not in the room, call for one.
Don't stress. You'll get there when you get there. Being angry about a delayed flight won't get the plane there any faster.
Bring a small hostess gift. Then you'll have room in your suitcase for a souveniere.
Bon Voyage!
Marian Rothschild is a Certified Personal Image and Wardrobe Consultant with Look Good Now in Boulder, CO. You can reduce the amount of items you pack by one third if Marian helps you pack for a trip. You'll wear everything you bring and you'll have everything you need. Contact: https://marianrothschild.com/contact-us