In the Friday, Oct. 15, 2010 issue of the Daily Camera, Aimee Heckel published (with my permission, of course), photos of seven outfits that I created from one dress.
This is the basic dress that I started with. It's a Calvin Klein, from Marshall's in Boulder for $49.00.
I added this green cardigan, a light green necklace, and emerald green peep toe pumps from J.Crew. Color!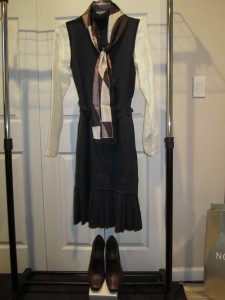 Then I put this ivory blouse underneath the shift, tied a multi shad scarf, and changed to brown booties.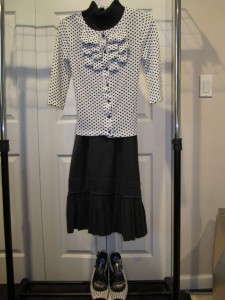 Next, I added this sweet pocka dot top with ruffled embellishment with black & white wedge heels.
For the fifth outfit,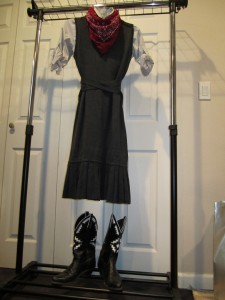 I chose a Western theme, and tied a bandana, put a checkered shirt under the dress, and paired it with cowboy boots.
For some unknown reason, my photo of outfit #6 won't upload, so here is outfit #7.
For your fall and winter fashion makeover in Boulder, CO, wear a wool jacket over the dress with a bright scarf tied, for warmth and a pop of color.
I can put together new outfits from what's in your closet, with accessories and shoes. Call me for a color analysis, a lesson on applying makeup, group fashion presentations, and a style makeover. As a wardrobe and image consultant, I am also a personal shopper and can save you time, money, effort, and stress.
Marian Rothschild, Image Consultant and Personal Stylist, Look Good Now, 2497 Keller Farm Dr. Boulder, CO 80304 720-933-9247. Let's talk about your image, call me today.