This is reprinted from Feb. 2011 Mile High Style Tips for Women's Magazine Spring 2011
How to Get The Look You Love By Marian Rothschild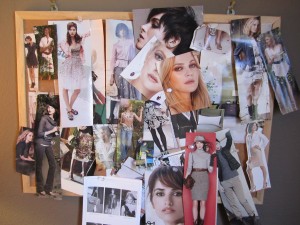 Do you stand in front of your closet wondering what to wear, wishing for a whole new wardrobe, and a fresh look?
When traveling to uncharted territory, you always bring a map of some kind, right? It's a visual, just like a photo you'd show a hair stylist for a new cut, or pictures you'd show to an interior designer who will want to see what type of decorating you like.
To achieve a fresh, updated image with your wardrobe, first you'll need to know what fashion styles you love; romantic, chic, natural, bohemian, artsy, classic. To figure that out, you'll need an "inspiration board." Here's the skinny on making your very own inspiration board.
Glean style inspiration from magazines, catalogues, and advertisements. Two national fashion magazines that have great examples of realistic outfits and how to put them together are In-Style and Lucky.
Don't just look at a magazine and put it back on the shelf. When you see pictures of outfits you like, and looks that you would like to work toward, cut them out. Get a bulletin board and hang it in or near your closet. Tack the pictures up on the bulletin board to inspire you to create outfits, with accessories, that you would not usually put together.
Study the pictures that you've cut out to see what is unique and significant about those outfits that you like. How are they different from what you usually wear? See what items are similar in your own closet that you can use to create your new, updated, desired image.
Every month or so add new pictures to your inspiration board. Then you'll know what looks you're working toward and how to get there.
Quick Tips:
Hot Trend Color for Spring: Coral
Optimum Shape to Strive For: Hourglass
Most Flattering Neckline: V neck
Would you like a color analysis, fashion makeover, beauty tips, understand how to apply makeup, and your very own personal shopper? Marian Rothschild, personal stylist, wardrobe consultant, and image expert in Boulder, CO will educate and empower you to feel and look your best for every situation. See before and after photos, then call for more info and to book your consultation. Don't wait, Look Good Now! Professional Image Consultant Marian Rothschild, Boulder, Longmont, Denver, CO.