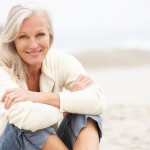 A few days ago a friend of mine asked my opinion about letting her hair go grey. Other women are probably wondering the same thing. I'd like to share with you, my answer.
The reason we think that we might look old with grey hair is that for the most part, the only people who have grey hair are…well, upward of 50. But our human mind associates grey hair with old people. That's the first problem. It's in the mind of the observer. We can't change the brain's hard wiring.
The second problem is that the color grey doesn't really flatter our skin tone. That's why most people with grey hair look kind of washed out and sallow. It just doesn't DO anything for you. It doesn't really flatter people unless they are so dog gone good looking that it doesn't matter what color their hair is. Like some models that you see in ads, or movie stars, right? That's because they are models and movie stars! Like this woman to the left; she's a professional model because she is drop-dead gorgeous. Models and actors are hired by ad agencies and film production companies to look beautiful. They have professional stylists and makeup people and hair people fussing them and fixing them for hours before they are in front of a camera!
My recommendation, for most mere mortals, would be to slowly go toward an ash blond color for your hair. Ash is a whitish blond rather than a yellow blond. This color will look appropriate for you and go WITH you and your skin tone in a flattering way. It won't look fake or artificial. It will flatter you while not looking too fussy.
How does that sound? I welcome your comments.
Marian Rothschild, AICI FLC
is a Certified Personal Image Consultant in the Denver, CO area with
Look Good Now
. Please visit her
before and after page
to see the benefits of her services. Are you tired of being stuck in a style rut but don't know what to do to update your look? Let me share how I might be of service to you. I help busy men and women put together their complete head to toe look to feel confident, attractive, and genuine for every situation. Call to see if we're a good fit; 720-933-9247.