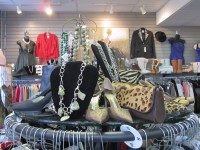 Second hand stores and I have a long history. My role as a "second hand rose" started when I was a little girl, the middle of five children, from a modest-means family in the Chicago area. My mom would take me to Saint Mary's Thrift Shop in suburban Flossmoor. This second hand store carried everything from lady's coats and dresses to household goods.
 I never thought about where the merchandise came from, or why everything looked like it was hanging in someone's closet rather than in a store. At the time I couldn't fathom anyone giving away perfectly good clothes and household items. I just knew everything there cost a lot less than it did in regular stores, and the shop had a unique odor, like someone's basement or your grandmother's living room. 
 In my twenties I found an upscale consignment shop on Chicago's fashionable Oak Street. It was right in the heart of expensive boutiques, so shopping there felt super cool. I bought two outfits and called them my "city clothes" because they were chic and artsy, like nothing I'd had before. 
 That's where I learned the concept of consignment stores. Women bring in clothes that, for whatever reason, aren't right for them, and the shop and the consignee split the profit when the items sell. Genius! How many of you have shopping mistakes hanging in your closet? Consignment shops can solve that problem!
 Lucky for the ladies in Louisville and Lafayette, there's a gem right in the heart of darling downtown Louisville.  Switch Boutique is an upscale ladies consignment store that's chock full of fashions, sizes 0 through 14. Switch has a huge variety of shoes, boots, jewelry, handbags, dresses, separates, and even wonderful winter coats. There are racks and racks of both new and gently used items. It's like a candy shop for grown up girls.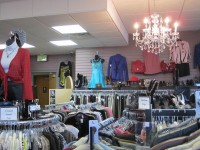 Some new items come from retail stores that are going out of business or want to move inventory. There's jewelry made by local artists for sale along with consigned classic and trendy pieces. Best of all, clothes are hung by category, color, and size!
 Switch Boutique consigns items that are in style, from the last two-three years, clean, on hangers, with good fabric and working zippers. Some of the labels I saw: Lucy, FILA, Giorgio Armani, H & M, Talbots, J. Jill, Ann Taylor, J. Crew, Banana Republic, James Perse, Evan-Picone.  They've got the goods at amazingly affordable prices!
 Stop in and see the intriguing inventory and owner Kathy Humphrey. She'll offer you water, coffee, or wine while you shop, and even help you pick out pieces she thinks you'll like. Parking is free and so is the hospitality at Switch Boutique 901 Front St. Louisville. Hours:10:00–6:00 Mon.–Sat., 11:00–4:00 Sun., expanded hours in summer.
 Switching apparel is what consignment stores are all about. Edit your closet and recycle your unloved goodies for new-found treasures. Switch is a gem, but other than that, it isn't anything like your grandmother's living room.
Marian Rothschild, AICI is a personal image consultant and personal shopper with Look Good Now Image Consulting in Boulder, CO. Color analysis, closet consultation, makeup lessons and personal shopping will update and upgrade your image for work and weekends. Visit our bundled packages page to see which services are right for you. Call today, 720-933-9247. Don't wait, Look Good Now!