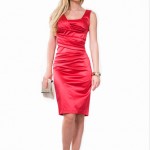 It's Party time, but it's cold outside! I have never, ever seen a woman wear a skimpy, sleeveless cocktail dress to a Christmas or New Year's Party. Why then, do catalogues and fashion magazines show pictures of dresses that are for a hot August night, in their Holiday issues? Who wears those dresses? Not real women.
Anyone I know who has ever gone to a Holiday party in Chicago, New York,  or Colorado, wears something warm. You gotta be warm, otherwise you're uncomfortable, and then what's the point?
Too many women wear all black, thinking it makes them look slimmer. Black makes you look dark, and dreary, and mournful. If you must wear black slacks or a black skirt, this style consultant recommends wearing a light or bright color on top, preferably a color that flatters your skin tone (coral) or eye color ( blue, green, or teal). Putting a bright, flattering hue next to your face will brighten, liven, and add some welcome glow. (Styles by Juicy Couture.)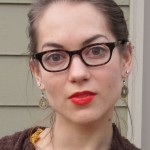 Be sure to add cheek and lip color in the same color family as whatever red color you're wearing. Also, some eye liner and mascara will give your eyes definition, while concealor blends and evens out skin tone.
Craving more beauty tips and a lesson on applying makeup? Contact professional image consultant Marian Rothschild to have a color analysis, style makeover, makeup lesson, and personal shopping: 720-933-9247. Don't wait, Look Good Now!