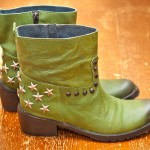 Pantone's Color of the Year: Greenery 
Every year, Pantone chooses a "Color of the Year." 2017 brings us Greenery, a yellowish light green that's crisp, clean, and lively. This shade is reminiscent of spring, emerging buds, leaves, grass, and all the possibilities of new growth. I love the energy this color brings to my wardrobe and many areas of my home.
It's not terrific for everyone's skin tone, but there are still tons of ways to use this yellowish green shade in your wardrobe, home, and garden.
Who can or can't wear Greenery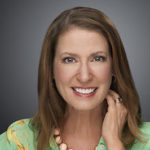 You'll look energized and fresh in this popular hue if you've got "warm", or yellow-gold undertones to your skin like mine, left (wearing a "Greenery" blouse.) If you tan easily and keep a tan for several weeks or months, that tells us your skin tone is "warm." The darker or more golden your skin color, the more flattering Pantone's choice will be for you.
"Cool" undertones means you have rosy or pink skin tones (like this model left), and probably don't tan at all, or it takes all summer to just get one shade darker.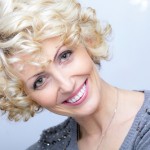 If you are silver-haired with have fair, rosy skin, you'll want to keep this yellowish green away from your face and only wear it sparingly. If you shy away from wearing yellow because it washes you out or makes you shallow, only wear Greenery on your lower half. Maybe try a floral skirt, a belt, handbag, or vertical-striped jeans that have a bit of Greenery to give your look a bit of trendiness from this popular hue. 
You can use Greenery throughout your house and garden, to get a pop of fresh, fun, trendiness, borrowed from nature. I use this shade in lots of accessories, furniture, and of course, house plants. Here are some examples.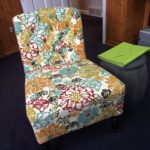 1) Office chair in floral print with Greenery throughout, with a Greenery leather folder for carrying papers to meetings.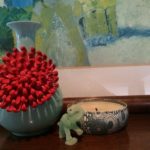 2) Framed poster with accessories including a jade carving of elephant in Greenery.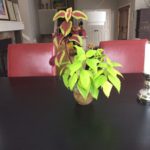 3) Cuttings of coleus in reds and Greenery from the summer garden reminds us of our warm-weather bounty.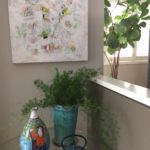 4) Corner table in dining room holds accent pieces; vase on left has Greenery in its artwork; it's also in the original mixed-media art hanging above, as well as in the fiddle leaf fig tree in the background.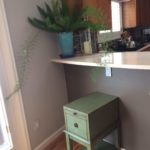 5) Small table in Greenery by the backdoor holds dog accessories: leash, bags, and treats.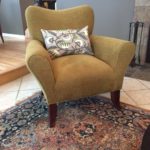 6) Armchair in living room in plush velvet Greenery with blue and green accent pillow.
If you're not sure whether Pantone's color of the year is right for you, call for your very own  Customized Color Chart. In about an hour you'll have a plastic-coated card with 36 of your most flattering shades.
Combine this service with a Personal Style Assessment, Closet Consultation, or Makeup Lesson, and you'll be headed in the right direction just in time for spring! To see which service package is right for you, call for a free 30 minute phone consultation: 720-933-9247. There's even a Men's Image Package. Don't wait; Look Good Now!