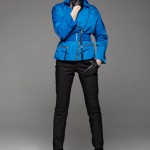 Ladies, you don't have to bulk up to stay warm this winter. Yes it's cold, but you can still look hot if you know a few tricks. Keep your cool and know what image you'd like to project, depending on whom you'll be with. Here's some suggestions for winter styling.
Wear cashmere sweaters: they are soft, comfortable, beautiful and warm without being bulky. Choose colors that flatter your skin tone and eye color, like warm pink, deep coral and teal.
Stock up on a variety of scarves for sleek styling during cold months. Choose flattering colors and prints that will tie your whole outfit together. Prints should have one color from your top and one color from your bottom, or colors that compliment the other pieces you're wearing to turn a top and bottom into an outfit. If you've got reddish tones in your hair, get a scarf that has those same shades, like in this photo. There are tons of ways to wear scarves to stay warm and fashionable. Check out my favorite video on how to twist and tie scarves for chic looks: click here.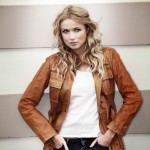 For warmth without bulk, always wear a camisole under your blouse or top. Choose a fabric specially made for warmth, without thickness, which could interrupt a smooth line of your clothes.
To keep your legs warm, choose tights or opaque stockings when wearing a dress or skirt. Try other colors than black, which is the darkest of all dark colors. Maybe gray, wine, navy or brown hose might make a nice alternative to black. Textured hose can be fun and very stylish.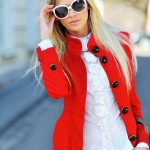 Jackets and cardigans over a blouse or top are a great way to stay warm in winter and still look stylish. Choose styles that taper in at the waist and fit your figure well. Go for hip length or longer; tunic-length jackets give a terrific long line and can still be slenderizing. Tip: Your blouse or top should be in a color that's lighter or brighter than the jacket. The eye automatically goes to the lightest or brightest thing, so you'll appear slender and sleek and still be cozy and warm.
I love corduroy pants. They are warm, comfortable, and versatile. Get some that fit you really well. Not black, you have enough black pants, right? Get chocolate brown or rust. Don't settle for tight waist bands that pinch – you gotta be comfortable.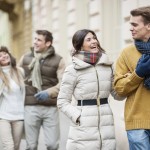 Your winter coat should be knee-length or just above the knee. You don't want it too long, or it will overwhelm your frame; too short and it cuts you off at the hips. Make sure that your coat has a waistline that tapers inward. If possible, cinch that waist with a sash or belt like in this photo. This way, you'll look like a tall, thin column, or a tall glass of Hot Totti.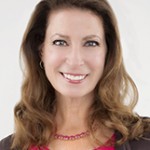 If you would like help with wardrobe, personal branding, professional image, shopping or makeup, please visit these pages on our website, then call for your free 30-minute consultation: 720-933-9247. Don't wait, Look Good Now.
Marian Rothschild is a Certified Personal Image Consultant, speaker, award-winning and best-selling author of Look Good Now and Always available on Amazon.