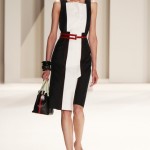 Let's be honest: looking slimmer, taller, and younger isn't going to solve all your problems in life. But it can help you feel more attractive, have more personal presence, and therefore boost your confidence. Wouldn't you like that?
These tips, together, can give you the appearance of being a bit slimmer, possibly taller, and yes, even younger looking. The trick is to do these things all together, consistently! That means taking the time, ahead of time, before you need to get dressed, so that everything is in line and ready for you to execute.
Black doesn't always do you a favor. Especially if the shape is boxy and your coloring is fair, like Jerri in both photos, right. I showed her that wearing clothes and accessories that elongate her frame, in colors that balance her coloring, definitely gives her a slimmer, taller, and younger appearance.
Wear tops, cardigans, and jackets that elongate your torso. That means they are probably tunic length, (to the mid or top of your thighs.)
Wear a lighter or brighter colored cami or top under a darker jacket or cardigan. That's because the human eye goes to the lightest or brightest color. So your light or bright column down the center of your body will be the attraction – not your width.
Look for as many vertical lines as possible and wear tops that have: vertical stripes, pleats, zippers, seams, piping, cut-outs, V necks, ruffles, and pockets on a diagonal instead of horizontal.
Jackets and cardigans should have as low a V neck as possible.
Long necklaces, or necklaces hanging in a Y shape, or scarves tied on a diagonal or hanging low will all give you a long and lean line, straight down the center of your body. Slimming!
Show off those gams. If weather permits, go bare-legged and maybe use some self-tanner. It's perfectly fine to wear ultra sheer nude hose for a bare-leg style. Look for those words on the package to insure you won't be wearing hose that's heavy and mumsy-looking.
Nude or beige shoes and sandals will elongate your legs. They don't have to be heels, but heels certainly elongate your entire look. Pumps are classic because they are extremely flattering to a woman's figure. They don't have to be high: even 1.5″ or 2″ classic cut-outs will give you a sleek, statuesque appearance.
Don't let a black strap on a shoe or sandal chop off your foot from the end of your leg. Get rid or anything that chops horizontally and replace these items with footwear having vertical and diagonal lines.
Choose earrings that hang long, rather than square or round shapes that sit close to your face.
Good posture can instantly make you look an inch taller, more confident, years younger, slender and energetic. Practice good posture every time you walk under a doorway. It's huge.
Body slimmers can do wonders for smoothing out lumps, bumps, and unwanted bulges. There are many brands, cuts, and lengths so try on several. They'll smooth out your stature.
Here's the one you were dreading, but it's undeniable: figure out a way to fit working out into your schedule. Do whatever type of exercise you enjoy: bike, swim, dance, hike, row, practice yoga, Pilates, or anything else that keeps you going regularly. Consistency is key. And you'll feel so good!
If you would like help with wardrobe, personal branding, professional image, shopping or makeup, please visit these pages on our website, then call for your free 30-minute consultation: 720-933-9247. Don't wait, Look Good Now.
Marian Rothschild is a Certified Personal Image Consultant, speaker, award-winning and best-selling author of Look Good Now and Always available on Amazon.