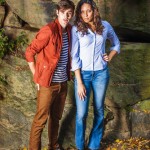 Men's Style and Fashion Tips by Marian Rothschild, AICI FLC Denver, CO Image Consultant
 Desert Boots in brown suede are a great casual look to go with jeans. (Clarks Originals are $130.00)
Shirt tucked in for work, with a belt. Shirt can be worn out for casual.
Dress for your body type; If you don't have a contoured bumper, relaxed jeans highlight your shortcomings. Flap pockets add dimension where you want it. If you're backside is size XL, dark pockets with no flaps and little or no stitching are best.
Spend more money on classic pieces of wardrobe like wool sweaters, coats, sport jacket, leather shoes.
Take care of your clothes; all should be clean, odor-free and wrinkle-free. Use a fabric brush or tape for lint removal.
Find a terrific tailor who does expert alterations. Use him.
Wear shirts and ties the same color as your eyes. Wear pants the same color as your hair.
Clothes don't need to be new, they just need to look new.
To maintain your desired weight and muscle tone, do 3 aerobic workouts per week plus 2 strength work outs per week.
Hire a certified professional personal image consultant to help you shop for clothes, shoes, eye glasses, and other necessities. I help you find the look that's just right for him or her. You'll be the hero when you get the job, get the girl, get the raise.
Call Marian Rothschild, AICI FLC to help you get the look you want to feel confident, attractive, and genuine for every situation. Call now (720) 933-9247.
Tired of boring clothes that don't really say anything about the real you? Then it's time to update and upgrade. Visit my website to see which service bundle best suits your needs, then call: 720-933-9247 for a free 15 min. consultation.