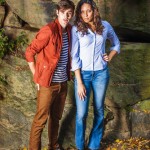 Great men's fashion for men starts with attitude. It's a mindset. You're tired of "same-old" and ready for some "yea, man." You want it to be easy, but come on. Has anything really great ever come easy?
Okay then, I'm going to give it to you straight. Put down the burger and pick up the salad fork. Then go for a brisk walk or bikeride, and hit the gym. You know it's true. Cut the carbs and grab the greens. You'll feel great and the ladies will notice.
Still reading? Great, now for the easy stuff: things you can go buy at the store. Here's my list, in no particular order.
1.) Get a blue casual collared shirt with stripes across the chest or upper half. (This will make your shoulders look broader.) The shoulder seams need to line up with your shoulders, not slouching down your arm. You don't have to tuck it in, except for golf.
2.) Comfortable, lightweight athletic pants that actually fit, like A,B,C pants from LuLuLemon. They are easy to move in and look great. You can wear them for casual day at the office, social activities, golf, hiking, even casual meetings when you're not sure about the dress code. Pair them with a good-quality sport shirt and loafers.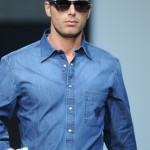 3.) Good quality accessories like sunglasses, wallet, and watch are worth it. Quality over quantity.
4.) Posture – while standing, sitting, walking matters…really.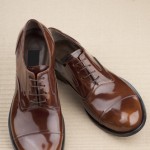 5.) Brown leather oxfords give a polished presence. Keep shoe trees in them for shape, and polish regularly. When the heels wear down at all, have them replaced. Wear them with trousers, khakis, or dark wash, well-fitting jeans.
6.) Here's the whole put-together look: plaid or stripped dress shirt, navy checked jacket, dark-wash, straight-cut jeans, leather shoes, fit bod and straight stance. Great look – right on target.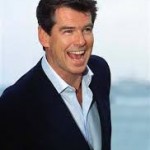 7.) Grooming is immensely important. It completes your image. Spend a few bucks on a grea current haircut. Ask about products and how to apply them to get that style every morning and evening. The five day bristle on your face is fine if it's neat and well-trimmed. Shave your neck. A little scent is nice if it's pleasant and subtle.
Take the time to get the look that sends the message of who you are and how you wish to be known. If you'd like help with colors, style, and shopping, that's what I do. I'm very good at it and won't waste your time. If you live in the Denver area, call me: 720-933-9247. If you live elsewhere, we can Skype. Call 720-933-9247.
Marian Rothschild, AICI FLC is a certified personal image consultant, color expert, and personal shopper in the Denver-Boulder area. She is president of Look Good Now Image Consulting and best-selling author of Look Good Now and Always. Marian helps successful professionals transform their visual signatures into confident, authentic expressions of full potential for stellar success. Call now for your best image; 720-933-9247.