Cooler temperatures, leaves changing, darkness comes earlier.  Autumn is here!
Some days it will still be in the 60's, then dip down to the 40's. It may be difficult to know when to put away your summer wardrobe and what to wear for this time of transition.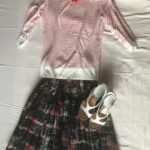 Here are a few examples of how to go from summer styles to fall outfits, using one basic piece and adding different pieces to stay warm and weather appropriate.
A lightweight multi-colored skirt worn with a light cotton sweater, bright necklace and white sandals was wonderful a couple months ago.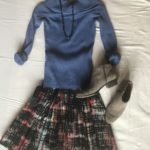 Now pair that same skirt with a long-sleeved sweater, black beaded necklace, and light gray booties for sensational seasonal styling. (No tights required if temps are 50 or above.)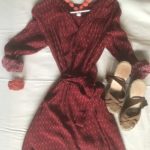 This red print dress works great for transitioning because of its bold colors and medium weight. In August we'd style it with a colorful necklace, cuff, strappy wedges, rolling the sleeves up for cool comfort.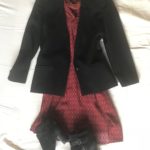 For chillier temps, add a structured jacket in one of the colors in the dress fabric, change out the accessories, and choose a 2″ – 3″ heeled bootie for a great office or business professional image.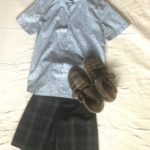 Guys, this styling can work with your wardrobe, too. Here's an example of a casual summer outfit, like what you wore for warm-weather lunches or weekend BBQs: blue cotton shirt (with subtle print), plaid shorts, and sandals.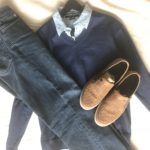 Now add a navy V neck sweater over that shirt, change out the shorts for jeans (Levi's or Lucky are two affordable and great-looking options), and swap the sandals for some tan slip ons. These Ecco's are super comfortable and go with everything!
Do you have wardrobe pieces you'd like to transition for cooler weather?
Call me for a free 30 minute phone consultation (720-933-9247) and let's get started updating your wardrobe to look and feel fantastic for work and weekends. Don't wait; Look Good Now!